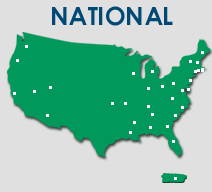 Here are the places we've been:

Alabama
Arizona
Caifornia
Connecticut
Delaware
Florida
Georgia
Indiana
Kansas
Kentucky
Louisiana
Maine
Maryland
Massachusetts
Michigan
Mississippi
Missouri
Nevada


New Hampshire
New Jersey
New Mexico
New York
North Carolina
Ohio
Oklahoma
Oregon
Pennsylvania
Puerto Rico
Rhode Island
South Carolina
Tennesse
Utah
Vermont
Virginia
Washington
Wisconsin
Since 1964 B.C. Electric, Inc., formally known as Comer Electric, Inc., has been in the electrical contracting business. We have an outstanding reputation for providing a quality installation, superior service, competitive pricing and for always meeting schedules, including the most aggressive ones.
Since its modest beginning in Braintree, Massachusetts we have grown from a hands on owner, William M. Comer, Sr., and one helper to a current local and national workforce of over thirty men and women. Today we have an in-house team of estimators and project managers for our national and local projects. The national reach with the local touch permits us to successfully complete projects across the United States.
We have worked with such noted names as Siemens, Dematic Corporation (formally known as Rapistan), Wearguard, Talbots, and Verizon Wireless.

Here are the General Contractors we've worked with:
A.J. Martini, Inc.
Acella Construction Corporation
Barletta Associates, Inc.
C. Spirito, Inc.
Callahan/Hoffman Co., Inc.
Contracting Mgnt. Corporation, Inc
D.F. Pray, Inc.
Essex Builders Corporation
Ford Construction Corporation
Greene Construction, Inc.
Hanna Design Group
K. MacLeod Construction
Lincoln Property Company
Testimonials:
"You will get the peace of mind and confidence you need when you partner with B.C. Electric, Inc. for electrical construction, services or maintenance." - Wearguard
"You will know that no matter what the challenge; tight deadlines, technical hurdles, Replica Watches, or scope of work, B.C. Electric, Inc. stands strong with the resources, leadership, and expertise to get the job done right." - K. MacLeod Construction